First, a warning, this post isn't about games. Not even slightly.
I'm currently working as Internal Evaluator on a JISC Curriculum Design project called Supporting Responsive Curricula, which is looking at ways in which the institution can develop processes and systems for enhancing responsiveness in order to support student employability. I've been struggling with the whole abstract notion of 'responsiveness', what it means, and how one might go about evaluating it.
The following model is my attempt to make sense of some of the complexity surrounding 'responsiveness', in the context of a 'course', to provide a coherent and holistic framework for evaluation. The elements of this model were identified in a series of interviews carried out last year with key university stakeholders. In order to test and evaluate this model, I would really appreciate any feedback that anyone can give me.
 I started by trying to produce a definition of responsiveness. Essentially, there are two components:
identify that a change is needed;
make that change in an appropriate time scale.
So, for the purposes of this model, responsiveness is defined as:
The ability to recognise change drivers, and to make changes, in a timely manner.
 The figure below shows the interaction of three components of the model: the drivers (things that bring about the need for change); the course elements (things that can be changed); and the course team (the agents that mediate change). The notion of 'course' is used intentionally so that the model can be applied at different levels of granularity (e.g. programmes or modules).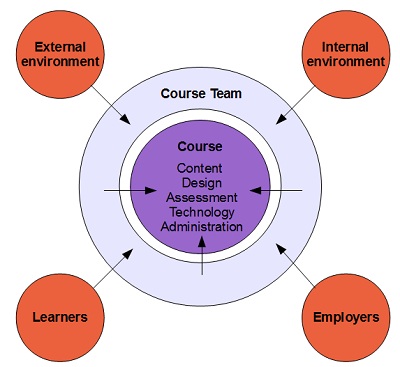 Change drivers
In this model there are four drivers for change:
The external environment, including economic factors and changes in regulation and Government policy.
The internal environment, including changes in policy and systems, and other university departments, for example quality assurance.
The learners.
Employers and regulatory bodies
Course elements
In this model, the course contains five areas that can be subject to change:
The content of the course (

what

is being taught?)

The design of the course, including elements such as pedagogic design, delivery and support (

how

is the course taught?)

Assessment.

Technology.

Administration, including systems and procedures.
Change agents
The course team (including academic, support, technical and administrative staff) is responsible both for identifying the need for change (component 1 described above, through interaction with the drivers) and effecting change (component 2, through interaction with the course).
Evaluating responsiveness
This model provides a framework for evaluating course responsiveness by producing a matrix of 20 questions (4 drivers x 5 elements). For example:
How responsive is course content to the external environment?
How responsive is assessment to the learners?
When considering each question, both the ability to identify the driver and the ability to implement change in a timely way need to be considered. I realise that some of these questions will be more relevant and practical than others, but this framework facilitates a holistic approach to analysis. The next stage will be to identify possible indicators, or ways of measuring responsiveness, for each of these questions.