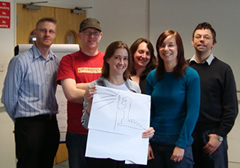 I have just got back from a hectic start-up meeting for the ARGOSI project. I've really enjoyed two days out of the office working with such a creative and enthusiastic group of people.
In the team photo (from left to right) are Dave White (digital narrative guru), Scott Wilson (code guru), Katie Piatt (who has developed and used ARGs at the University of Brighton for the last two years – on her own – scary and very impressive), me, Rosie Jones (library induction guru), and Peter Whitton (graphic designer extraordinaire).
Thanks also to Lawrie Phipps, from the JISC, who joined us on the second day and helped to ensure that the project has at least some tentative grounding in reality.
I wish all of my work was this much fun.